Sheds & Garages for Sale in the Lehigh Valley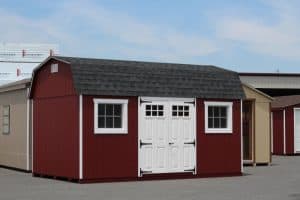 All Amish Structures is PA's premiere manufacturer of top quality sheds and garages.
Since our founding, residential and commercial customers throughout the Lehigh Valley, PA are have turned to All Amish Structures to construct storage sheds, pool houses, garages and much more.
We have been designing and building sheds and garages for over 50 years and have thousands of happy customers. At All Amish Structures, all of our sheds and garages are built from the top to bottom, inside and out, with only the best quality materials and construction.
Reasons to buy a shed or garage from us:
– Buy direct from the manufacturer
– Compare our construction to the local competition
– Honest, knowledgeable, & friendly staff are here to answer any and all of your questions
– NO ONE beats our warranty
– Custom color matching to your home's painted or vinyl exterior
– Our reputation is second to none for quality construction at affordable prices.
All Amish Structures is a full-service company. We will do everything we can to make the purchase of your new shed, gazebo, pavilion, pergola, play set as easy for you as possible. We will remove your old structure, get the area ready, and deliver your new one. We can even more an existing shed or repair it on the job site.
Whether you're looking for a small shed or a large, multi-level building, we have 50 years of experience building a wide variety of structures and satisfying thousands of local customers in the Lehigh Valley area. You can rest assured the products you see on our website are built by experienced and highly dedicated craftsmen who are committed to your complete satisfaction.
We love custom sheds and garages
If you have a custom idea in mind and want to see your dream come true, our experienced craftsmen will work with you to make it happen on tie, at or under budget. Put our skills to the test for you today. We build a wide variety of custom structures that can enhance your home or business. From garages to gazebos to carriage houses and pool side cabanas…we do it all. Whatever you need or are looking for we have the best option in Lehigh Valley.
All sheds and garages are built to last with many custom features included, and we can add practically any option you can think of such as:
– Stucco
– Windows
– Painted doors
– Ramps
– Skylights
– Lofts
– French doors, Dutch doors
– Front porch
Much, much more…
We build to any size and configurations (so as long as it meets code), and offer both pre-built standardized sizes and custom designed structures built to your specifications.
Contact US Today to Get a Free Quote!