Sheds & Garages in Bethlehem, PA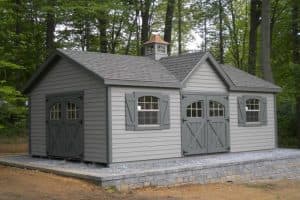 All Amish Structures is your one stop shop for all Amish structures from sheds, gazebos, playhouses, garages, dog kennels, lawn furniture and much more. Our Amish structures are built on an Amish farm amid the beautiful rolling hills of Bethlehem Pennsylvania. Our custom structures and unique handcrafted furniture will add style and class to your home. All of the items you can purchase from All Amish Structures are fully custom, handcrafted and made from real wood right here in PA.
Customize your shed or garage to fit your needs
We specialize in customized sheds and garages and can take our standard structures and turn them into a custom shed or garage build especially for you.
Looking for a woodshed or pet shelter? We can frame an attractive opening in any of our shed styles, and add interior walls, shelving, or loft to suit your needs. If you have a specific idea in mind but can't find it on our site, send us a quick email with a description, or fax over a drawing and we'll give you a price for the job. We are not limited to options within a specific structure's style; we build dog kennels, storage sheds, playhouses, and garages. You can come up with the idea, and we'll do the work for you.
Maybe you want something more than just a store shed…add a 5 ft. porch onto the front of your structure might be the answer to your problems. A "porch shed" is a great option for combining a storage area with play and relaxation. You can add an optional wall in the interior to separate the two or keep it open for ease of access.
If you're looking for exceptional value in a store shed, you came to the right place. We are a place known for strong work ethic and integrity. Our handmade sheds and garages are the perfect addition to your backyard because they add value to your property and provide the extra storage you need. They can also be custom designed, ordered online and delivered to your backyard all from a few mouse clicks. In addition to store sheds, you will also find garages, gazebos and playhouses.
We are a company that has over 50 years of operations in the area. We are manufactures of quality sheds, garages, outdoor structures, lawn furniture, and playsets.
We are committed to excellent service and outstanding quality delivered to you at an affordable price. We are happy to help you customize your shed or garage today.
Get a Quote Today!