Sheds & Garages for Sale in Coppersburg, PA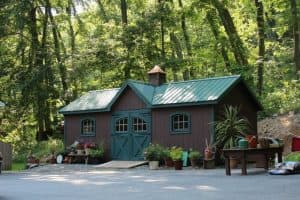 Looking for Amish structures in Coppersburg, PA? We have a wide selections of sheds and garages for you. Our sheds and garages are finished in quality materials
Whether you'd like to add additional storage capacity to your backyard or garden or want to build a convenient workshop for a favorite hobby of yours, All Amish Structures offers a variety of custom build Amish sheds and structures for your needs.
From small mini barn sheds to elegant and versatile garden sheds, every shed or garage we build offers quality construction, customizable options and the versatility you need to store all of your gear in one place.
All Amish Structures offers a large selection of Amish built sheds, gazebos, swing sets, animal houses, garages and much more. We offer stylish, affordable buildings and play sets that can be completely customized to your needs.
Since we stablished our company over 50 years ago, our number one concern has always been customer satisfaction. We believe this can only be accomplished by providing superior service, quality products, and competitive pricing – all in a timely manner to meet the customer needs. We are committed to business integrity and honesty through hard work, organization, courtesy, and communication. We take pride in making our customers very happy.
Got an old shed that needs removed? We can help you! If you have an old shed that needs removed or want to move to another location on your property, we can do that for you. Need to move a shed from your property to a friend or neighbor's land? Did you buy a shed from a store that doesn't offer delivery?
All Amish Structures can moved sheds and garden buildings. Our experienced crew uses a variety of techniques and equipment to ensure safe removal and placement of your shed whether it's across the yard or across town.
Here at All Amish Structures we can provide you with any custom shed or garage to fulfil your needs. Our experienced crew can handle anything for you. Our buildings are perfect for storage from garden equipment to motorcycles. We are associated with 5 local Amish families who have been making top quality sheds and buildings for us for over 50 years. You will find that our sheds and garages are made from top quality materials. They also require little amount of maintenance, which is one of the reason why our customers love our sheds and garages.
Get a Quote Today!