Sheds & Garages in Northampton County, PA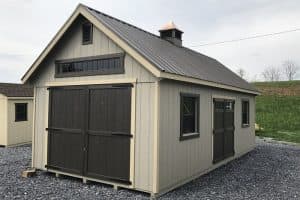 All Amish Structures is the leading provider of high quality Amish built sheds and products, featuring the largest outdoor living display in the area.
We service the Northampton County and surrounding areas.
Originally opened over 50 years ago, All Amish Structures started out as a small, family owned shed and garage provider. Today, we're proud to say we're still the family owned business but since that time we've grown to become a larger supplier of garages and sheds. For over 50 years and 2 generations, All Amish Structures has been working side by side with the local Amish community in effort to best meet you, our customer, every need.
For your selection, we have many sheds on site for you to choose from or better yet, you can sit down with a member of our experienced sale staff and personally customized your very own shed from top to bottom. If you can picture it, we can build it for you.
ALL Amish Structures offers a full range of wood sheds, vinyl sheds, cedar sheds, boards and batten sheds and more. We also feature a great selection of indoor and outdoor handmade Amish furniture, including chairs, tables, swings and much more. And remember, All Amish Structures wood products are 100% handmade and come with a full warranty.
But what we believe truly separates us from the competition is our quality service. We are not simply a middle man. Our Amish builders can construct your shed directly on site or have one of our experienced drivers carefully deliver your shed or garage to your home in one piece. We also offer a vast array of services to meet your every need. Have an old shed or garage you want torn down and removed from your home? Let All Amish Structures take care of that for you. Need your site professional prepared? We offer that as well. Whatever it takes to get an All Amish Structures onto your property, we can make it happen.
We help customers all over the area and will be happy to help you out.
At All Amish Structures we've been in business for over 50 years and for one reason only, and that's because of you, our loyal customer. We firmly believe that a partnership exists between you, the customer, and us the shed and garage providers. That's why we want to have the same quality shed or garage in your backyard that we have in ours.
Contact Us to Get a Quote!