Sheds & Garages for Sale in Slatington, PA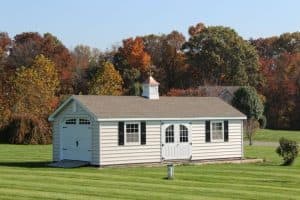 All Amish Structures aims to bring the quality of Amish built sheds, backyard structures, furniture, playsets and garages to the conveniently, accessible Slatington, PA area.
We don't value. We don't do cheap. With all due respect, cheap can be purchased at your local hardware store. We're not looking to compete in that arena of sheds and garages.
Our focus is on giving you long lasting results that make the most of your investment. In other words, we're focus on making each structures an investment into your present. And long future.
How long do you want your shed or garage to last? Ten years. Fifteen years. Thirty years?
It's our goal to give you sheds and garages with a superior lifespan. This is our company. This is our reputation. So this is our commitment to you and our customers.
We work with nothing but the best.
All Amish Structures is proud to say that we use top notch materials in our construction.
We have spent years researching and finding the best quality products in the industry. We guarantee that all of our products are of the highest quality and some of the lowest prices available in all of the area. We no longer match the standard in quality, we not set the standard in quality products.
All Amish Structures pride themselves in selling handmade Amish products. We serve all the Slatington, PA area. As a leading provider of freestanding sheds, gazebos, and garages in PA, you can browse our vast selection of products or simply call us to discuss what type of freestanding garage, shed, or gazebo would be best for your home.
We provide more than just sheds and garages in the Slatington area, we also provide installation with full site prep for sheds and garages. With 50 years of experience at our disposal and current state of the art delivery equipment, we can deliver your shed or assist with site prep work, at nearly any location you are looking to put a shed in the Slatington area. Why not give us a call today to learn more about installation and shed site prep.
We are committed to excellent service and outstanding quality delivered to you at an affordable price. We are happy to help you customize your shed, outdoor structure, lawn furniture, or garage. Give us a call today and let one of our experts help you out.
Contact Us for a Free Quote