Sheds & Garages for Sale in Bloomsbury Borough, NJ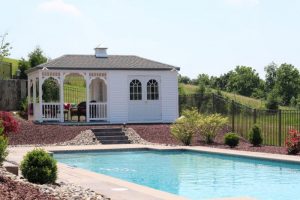 Most homeowners find that over time they seem to outgrow their indoor living space and storage spaces. Even if you live by yourself, it is amazing how many items and possessions we quickly collect and accumulate over the months.
While you can do projects around the house to increase indoor space, many homeowners in Bloomsbury Borough, NJ are choosing to add extra space by adding a beautiful and custom Amish Shed to their home. I addition you can clear out your garage and use it for its real purpose, hide unsightly equipment, keep track of where things are, and keep your home nice and clean.
Have you been thinking about investing in a custom Amish shed or garage?
We will show you why is a great idea.
At All Amish Structures well sell high quality Amish sheds and garages and other outdoor furniture. When you buy from All Amish Structures, you get free setup and delivery.
Having a custom Amish shed can help you open up living space inside your home. You can keep all the things you don't use regularly outside and out of sight. This way you can reduce clutter and only keep the necessities that you use very day near you. You can even make a list of things in your home that you only use on special occasions or for specific circumstances and decide to put those things out of the way so that they are accessible when you do need them, but not intrusive in your home.
Below are the reasons why you should use our company for your custom Amish shed or garage.
Over 50 years of experience
All Amish Structure was founded over 50 years ago. We have built an experienced team of shed and garage designers and installers who deliver the highest quality craftsmanship.
Plenty of options to choose from
How much space do you need in your shed or garage? What's the best layout for your current and future needs? What are the styles, colors, materials, and accents that will provide you with the best aesthetics for your property? We're right there beside you to help you with those questions.
Do you need your old shed removed?
When you are in the process of buying a new Amish shed or garage, ask us about the options we offer for the removal of your old shed. We can help you with that too.
Contact Us Today!