Sheds & Garages for Sale in Warren County, NJ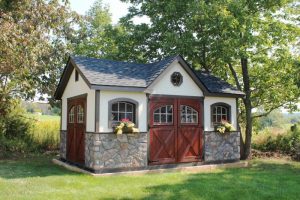 Need additional storage for that car, motorcycle, lawn mower? Tired of not putting your car in the garage, brushing that ice off your car in the morning? You need to invest in a shed or garage from our company, All Amish Structures
At All Amish Structures we can build any custom shed or garage to meet your needs. You will find that our custom sheds and garages in Warren County, NJ and the surrounding areas are made to last. They also require a very small amount of maintenance, which is something that each of our customers love. The sturdy, outdoor, Amish structures are ideal for storing everything you can imagine such as garden tractors, motorcycles, scooters, and lawn mowers.
We are proud to say that all of our Warren County, NJ sheds and garages are made with the highest quality and delivered to your home. To deliver our custom sheds we use a mechanism call "mule" to position our sheds easily. This mechanism is great to use in tight-fitting areas or hard-to-reach places. Pack away our outdoor furniture and garden equipment in a new shed from All Amish Structures.
Our Amish sheds and garages are the perfect solution for organizing your outdoor space! We can build you a new shed or garage for your property giving you more room to store away all of your lawn equipment, patio furniture, and much more. Any structure that we can make can be configured in vinyl, board and batten. Our customers can also choose from many different colors and styles. Check out our website or visit our showroom to see everything we have available.
All Amish Structures offers the custom sheds and Amish structures that you need from our shop in PA. If you are not sure what you are looking for, we welcome you to view our shed styles to see the types we have available. We also provide the accessories you want for these products at very affordable prices such as cupboards and interior shelving.
We literally have everything you need to choose the perfect custom shed or garage to fit your property. As the premier Amish shed and garage builders in Warren County we strive to exceed your expectations. Our skilled Amish workmen make all of our custom sheds and outdoor structures on site. We use nothing but top notch equipment and materials to produce long-lasting buildings our customers love.
Contact Us to Get a Quote!