Sheds & Garages for Sale in Allentown, PA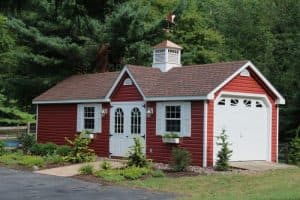 Our mission at All Amish Structures is simple – to provide custom Amish structures to our customers, and to create value, quality, and significance in outdoor living.
At All Amish Structures, our goal is not to offer the cheapest shed or garages you can find – those are available at your local hardware store. Rather, we strive to provide the best value for your hard-earned dollar. We expect our storage sheds and garages, when installed properly, to last many years. It's an investment into your property for years to come.
All Amish Structures is a second-generation, family-owned business with over 50 years of shed and garage building experience. The quality products we offer are built by Amish craftsmen. Our company sells the highest quality Amish sheds and garages in the Allentown, PA area. We also serve the surrounding areas. At All Amish Structures we take pride in our work and strive to provide each of our customers with quality and custom made products. When you choose to work with us, you are not only investing in quality materials, but also buying directly from the manufacturer.
Custom sheds and garages for you.
If you are looking for a variety of custom storage sheds, garages, outdoor structure and furniture you found the perfect place. We have everything that you need to choose the perfect shed or garage for your home or business. No matter if you are seeing a unit already made or if you would prefer to custom order a shed or garage, we design and build our products just the way you want them. Our 50 years of experience manufacturing garages and storage sheds in Allentown, PA allows us to custom design and build any structure to suit your needs. Each product we build is conveniently low-maintenance and will add beauty to any property.
When you work with us, you know that you are getting outstanding customer service that you can't find anywhere in the area. We will deliver any custom shed or garage in PA. We will also remove the old shed for you. The services our company offers will never let you down. This is why each one of our quality products here at All Amish Structures has a long warranty to back it up. Contact us today and speak to one of our shed and garage experts to get started on your next project.
Get a Free Quote Today!