Sheds & Garages for Sale in Kutztown, PA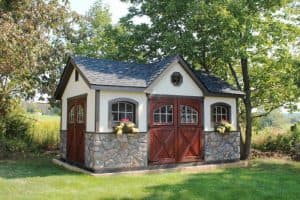 With over 50 years of experience in professional building of outdoor structures, you can rely on All Amish Structures to provide you with the best builds and best options for your budget. Honesty and integrity that you can always count on.
We provide top quality craftsmanship from 5 local Amish families and carpenters to ensure consistent excellent workmanship with a keen eye for detail and superior construction over the local competitors.
At All Amish Structures, we work very hard to earn your business. We are committed to providing you with the highest quality materials and products. We strive to maintain integrity and honesty in all areas of shed building business and will work to meet your expectations.
If you are looking for a variety of custom storage sheds, barns, garages, and buildings simply visit our website today and see our selection. We have everything you can imagine to choose the perfect shed or outdoor structure for your home or business. No matter if you are seeking a unit that is already made or if you would rather sit down with our sales man and tell them what you want, we design and build our products just the way you like them. Our 50 plus years of experience in the shed and garage manufacturing business allow us to custom design and build any structure to suit your preferences. Each product we build is very affordable and easy to maintain.
Here are All Amish Structures we can provide you with any custom shed or garage to meet your needs. Our buildings are perfect for storage from garden tractors and lawn mowers, to motorcycles, bikes, snowmobiles, and even cars. We are affiliated with 5 local Amish families who have been making top quality sheds and buildings for over 50 years. You will find that our sheds and outdoor structures are made to look great and last you for many years to come. They also require minimal maintenance which is great. All of our customers love or low maintenance sheds and garages.
We are committed to excellent service and outstanding quality delivered to you at an affordable price. We are happy to help you fully customized your shed, outdoor structure, lawn furniture, or playset to fit your needs. Stop by one of our outdoor showrooms in our 2 convenient locations in PA or NJ.
Contact us today and speak to one of our shed and garage experts.
Get a Quote Today!