Benefits of Amish Poly Furniture
As you shop for furniture for your patio, you may have noticed poly furniture as a potential option. Poly furniture is a type of furniture made from poly lumber. If you want to learn more about the benefits of poly furniture, just continue reading this blog post.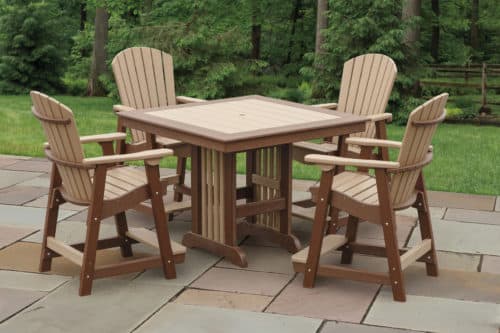 Poly lumber is a type of lumber that is made from high-density polyethylene. Polyethylene is UV-inhibited and created from recycled products. Milk bottles, detergent bottles, and other materials are used to create poly lumber. Don't worry though, each recycled material used to form polyethylene is decontaminated and purified, removing residue, adhesives, and paper. You would never have a clue that the table or chair on your patio is made from recycled milk containers when you opt for poly furniture.
One of the benefits of poly furniture is that no trees are used in the production of the furniture, preserving our forests. Additionally, plastics are used to construct polyethylene material, keeping plastic out of landfills and protecting our planet. Poly furniture is an environmentally friendly furniture option, perfect for enjoying the great outdoors without harming our Earth.
Another benefit to poly furniture is that it is easy to clean. Because poly furniture is made from purified and cleaned recycled materials, you don't need any harsh chemicals to keep your product maintained. Soap and water work just fine.
Poly furniture comes in any color you can think of. Match the tables and chairs you find to your pre-existing furniture collection or match your poly furniture to your landscaping and home design. This versatile, durable, and well-built furniture option is ideal for decorating your patio or turning a deck into an outdoor living space.
If you're interested in poly furniture for your home, check out what we have to offer at All Amish Structures. Lehigh Valley, Pennsylvania residents can contact us by phone at 610-628-4343, and Phillipsburg, New Jersey residents can call 908-454-4969. We hope to hear from you soon!
Bucks County Custom Amish Furniture | Benefits of Poly Lumber | PA NJ