Benefits of a Garden Shed from All Amish Structures
A garden shed can make for a beautiful and functional backyard decoration. Garden sheds are constructed to contain gardening supplies, lawn mowers, outdoor decorations, and so on. These sheds can match your home in color and architecture, and can also keep your items safe during rain storms or the winter time. To learn about three benefits to owning a garden shed, continue reading this blog post.
1. Storage
Garden sheds are the perfect way to declutter your yard. Instead of leaving lawn mowers, wheelbarrows, and gardening tools in the yard, place them in a garden shed. Declutter your garage or make more space in your home by building a garden shed in your yard. Garden sheds can even be designed with shelves, easily accessible doors, and ramps to make storage as easy and organized as possible.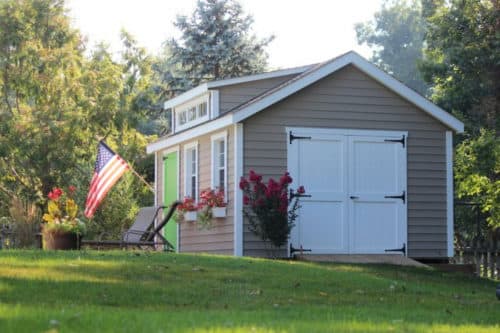 2. Declutter
If you have a cluttered outdoor living space, get rid of that clutter with an organized and easily accessible garden shed. Clean up your patio space, deck, or sunroom and transform these spaces into inviting and soothing areas when you move gardening tools into the garden shed. Any item you are not currently using can be placed in a garden shed for safe keeping.
3. Free up the garage
Can't park your car in your garage because you have too much stuff? Unfortunately, many people encounter this problem. The easy solution to a jam-packed garage is building a garden shed. You no longer have to compromise your garage space. Keep your car protected inside of your garage and keep your gardening tools safe and organized by relocating items to the shed.
Consider a garden shed for your yard and reach out to All Amish Structures! We have a location in Lehigh Valley, Pennsylvania, and a location in Phillipsburg, New Jersey. Contact us at either 610-628-4343 or 908-454-4969 to learn more about our services and start planning the construction of your new garden shed today!
New Jersey Amish Garden Sheds | Lawn Structures Quakertown