Pergolas are Perfect for Summer!
Pergolas are beautiful canopies that can add ambiance, shade, and style to any landscape. You can find pergolas in a variety of designs, including flat, pitched, enclosed, and slat-roofed. All variations are perfect for a backyard patio seating area or oasis by the pool.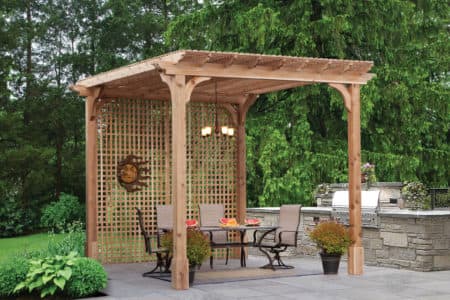 For smaller yards or patio spaces, consider a pergola with thinner pillars for more space for seating and outdoor furniture. If you have more room to spare, get creative with wider pillars inspired by classic architecture. Spacious areas can also benefit from pergolas with a wall. This helps the area feel more secluded, so you can have your privacy from the neighbors. Larger pergolas with a wall can also be used as a parking space for cars when placed in a driveway. Opt for a closed roof pergola to keep your car in the shade when it's parked in your yard.
Closed-roof pergolas are a great way to stay out of the sun, while still enjoying a warm summer day. On the other hand, slated-roof pergolas are classic, eye-catching, and great for using as an altar for outdoor backyard weddings. Consider placing a pergola by the pool to add some privacy and some seating for those who want to supervise swimmers.
Pergolas are an inviting way to transform your outdoor space, especially when painted to match your yard or personal taste. Select from rustic wood colors, vibrant white, or classic black for a backyard landscape all your own. For even more customization, considering growing flowers or vines on your pergola for a more garden-esc appearance that is romantic and relaxing.
Find the perfect pergola at All Amish Structures! We are the premier shed designer for the Lehigh Valley, Pennsylvania, and Phillipsburg, New Jersey, areas. If you are located in Pennsylvania, call us at 610-628-43433 to learn more about our pergolas. Those in New Jersey can do the same by calling 908-454-4969. We hope to hear from you soon!
Montgomeryville Amish Pergola | Lehigh Valley Amish Outdoor Structures