Ten Unusual Ways to Enjoy Your Gazebo
When you think of gazebos, you probably think of the summertime. Investing in a gazebo can make your summer more relaxing, but did you know you can actually use your gazebo year round? Gazebos are so much more than an inviting place to spend your summer days. Learn about 10 unusual ways to enjoy your Lehigh Valley gazebo by reading on!
1. An outdoor theater
You can turn your gazebo into an outdoor theater by simply setting up a TV, speaker system, entertainment set, or projector. Use your gazebo to host game night, watch your favorite TV shows, or sit back and enjoy a movie.
2. Shelter
Moveable gazebos are a helpful way to provide shelter to your vehicle on hot summer days. If you can, think about moving your gazebo into your driveway to provide cool shade for your car.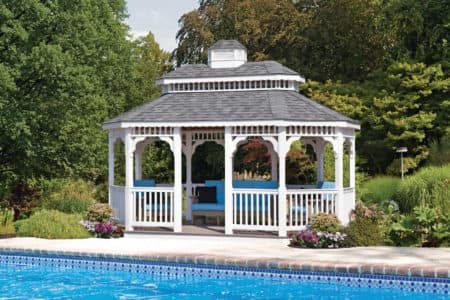 3. A greenhouse
Have a green thumb? Your gazebo can act as a greenhouse year round. Use the area to grow seasonal vegetables, flowers, or plants. Just remember to invest in flexible plastic walls and heaters to keep the inside of the gazebo humid and warm.
4. A pop-up shop
If you are a small business owner, or you have friends or family members who are entrepreneurs, you can use your gazebo as a pop-up shop. Portable and temporary gazebos can be placed in parking lots, outdoor flea markets, or fairs. Just make sure you have the proper licensing or permit if need be.
5. Charity drives
Your portable gazebo can also be used to raise money for your church, hospital, favorite charity, or fundraiser. A gazebo can attract pedestrians and help you raise money for non-profit organizations that are dear to your heart.
6. Storage space
Whether you're renovating your home or just need the extra space throughout the year, consider using your gazebo for extra storage space when you're not using it as an inviting place to relax in the summertime.
7. Host a work event
Gazebos are a sophisticated area for hosting professional events, such as business seminars or luncheons.
8. Throw your child a birthday party
Gazebos are sophisticated and fun! If your child is having a birthday party, use the gazebo as an entertainment area to spice up the event.
9. Advertising
Advertise your business with your gazebo by creating banners and prints, which you can decorate your gazebo with. These eye-catching designs are an out-of-the-box way to spread the news about your company.
10. Beach parties
Beaches can be windy and cold in the evenings, but a beach gazebo can make the environment more comfortable. Block out the wind and keep warm inside of a furnished gazebo.
The uses for a gazebo are absolutely endless, so consider investing in a gazebo this summer! At All Amish Structures, we can offer you your dream gazebo, so contact us at 610-628-4343 (Lehigh Valley, Pennsylvania, area) or 908-454-4969 (Phillipsburg, New Jersey, area) today!