Gazebos: From Ancient Architecture to Ideal Outdoor Oasis
Gazebos are an excellent outdoor oasis that offers shade, protection from the elements, and elegant style. Some homeowners have a gazebo in their backyard, while others place there's in the garden. If you're interested in learning more about the history of gazebos, continue reading this blog post.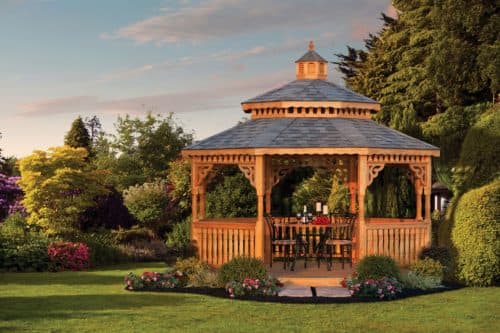 Gazebos are an ancient form of architecture. The first gazebos were built over 3,000 years ago in Egypt. When gazebos were first built, they were created to provide security. Gazebos acted as watchtowers, where security guards would sit inside of the gazebos and look for potential intruders. The roof of the gazebos would provide shelter for security guards in hot weather or rain.
Since gazebos were built near water sources, the structures would grow vines and other types of plants. This inspired the use of gazebos in garden areas. The ancient Persians and Greeks borrowed the idea from Egypt, and gazebos began to grow to international use. Once the Middle East, Japan, and China caught wave of gazebos, the countries started adapting gazebos into their own culture. For example, Japan used gazebos as a space to drink tea.
Today, gazebos are part of American culture as well. They are the ideal location to enjoy nature, bird watch, have a picnic, and so on. If you are considering building a gazebo in your yard or garden, reach out to us at All Amish Structures. We can build a custom gazebo for your space that is the perfect size, shape, and design to match your home and personal style. To learn more about our gazebo-building services, contact us by phone. Lehigh Valley, Pennsylvania, residents can reach us at 610-628-4343 and Phillipsburg, New Jersey, residents can contact us at 908-454-4969. We hope to hear from you soon and can't wait to help you build your dream gazebo!
Phillipsburg Backyard Structures | The History of Amish Gazebos