Ladies! How About a She-Shed?
Ladies looking for a relaxing escape can create a she-shed! She-sheds are the alternative to a man cave. Cozy and soothing, a she-shed is the perfect place to unwind alone or with some friends. She-shed's are constructed from outdoor sheds, which some people use for storing their outdoor lawn decorations, gardening tools, or lawn mower. If you already have space for these items, or don't even own these items, a she-shed is the best way to make use of some extra storage space.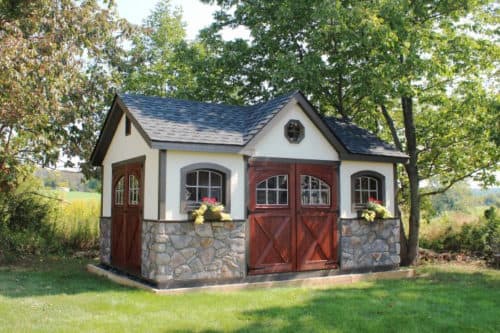 She-sheds can be used as places to read, craft, listen to music, or even take a nap. Whatever your hobby may be, create your own space for it. By taking a step away from the busyness of your home, you can truly have some healthy and comforting me time.
Some she-sheds can even have electrical outlets, so you can keep a space heater in the shed during the cooler months, or a fan in the shed during the warmer months. Individuals can also install mini-fridges in their sheds to enjoy snacks and cool drinks. Customize your she-shed to your needs to create an ideal area for yourself.
If you want to build a she-shed in your yard, contact All Amish Structures. At All Amish Structures, we are professionals when it comes to designing outdoor sheds, playsets, backyard structures, garages, and even lawn furniture. We can build a custom shed that is the perfect size for your backyard. We can also personalize your she-shed by painting it your favorite colors, adding windows, and so on. To learn more about our services and to get started with your she-shed construction, contact us at 610-628-4343 to get in touch with our Lehigh Valley location, or 908-454-4969 for our Phillipsburg location.
Create a She-Shed in Quakertown from All Amish Structures