Prevent Mold Damage in Your Outdoor Shed
If you own an outdoor Amish shed you know just how convenient it is to have high-quality storage in your own yard. One thing that you always need to be aware of is possible mold damage. There are easy ways to prevent it from happening to keep your shed and its contents in pristine condition for years to come.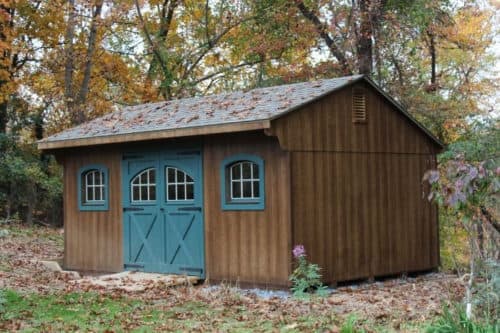 First things first, ventilation. If your shed doesn't have proper airflow, your chances of mold growing skyrocket. You'll want to ensure that there is a
properly installed ridge vent in the shed's roof to allow hot air to escape without letting any moisture in when it rains. You should also have vents located in the soffit under the building's eaves. This allows cool air to flow into the building and pushes warm, moist air out.
Polyethylene plastic or foil can both be used to create a vapor barrier for added protection. These are placed beneath the floors and on walls to block any moisture from penetrating. To further regulate the moisture in your shed, you'll want to keep the humidity between 30-50 percent. Install a hygrometer to track the humidity levels in case they increase too much, as this will promote the growth of mold and mildew.
The way you store your belongings in your shed is very important as well. Ensure that everything is completely free of liquid and moisture of any kind. Steer clear of stacking boxes along exterior walls, as this blocks air flow.
Regular maintenance is also a necessity, ensure that there is no moss growing on the shingles and use a high-quality paint on the exterior to prevent moisture from seeping in through the walls. If possible, raise your shed off the ground on cinder blocks or another appropriate raiser. Mow the lawn around your shed on a routine basis, and check all doors and windows for leaks. Caulk is a great way to patch any small holes or cracks you may come across.
Are you interested in investing in your very own Amish storage shed? Here at All Amish Structures, we can create the perfect shed or garage for any needs and you can rest assured that it will last you for years to come! Give us a call at 610-628-4343 or stop by and visit us today.
Sheds in Quakertown | Prevent Mold Damage in Outdoor Shed