Seven Types of Homeowners Who Would Benefit from a Backyard Shed
Backyard sheds are all-purpose areas perfect for storage, fun, hobbies, and relaxing. There are several different types of homeowners who can benefit from the added space that a backyard shed provides, so read on to learn what type you might be!
1. The Partier
If you love hosting parties in your backyard, a shed might be for you. Use your shed to store outdoor party supplies, such as patio furniture, fire pits, grills, and lighting. You can also put a mini-fridge, sink, or cabinets in your shed to serve food and drink to your guests from the yard.
2. The Pack Rat
Can't part ways with your favorite sweater, family heirlooms, or old photographs? If that's the case, store these items in your backyard shed. Be sure to build this shed to be secure, adding siding to the side and a lock to the door.
3. The Parent
Assist your children in growing their creativity with a shed that resembles a miniature house. Take playing house to the next level with a shed that has windows, a porch, shutters, and even fans or air conditioning.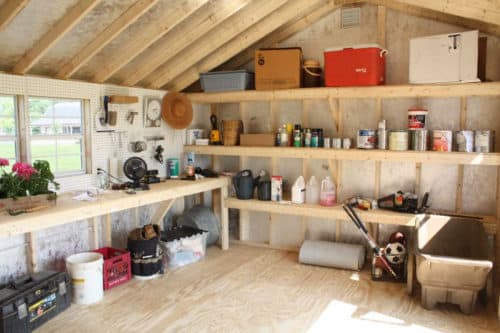 4. The Gardener
Those who love to garden need the space for gardening tools, soil, seeds, and pots. Consider a backyard shed to neatly store all of these items for organized and easy outdoor gardening.
5. The Relaxer
Take a load off by building a backyard shed that is home to yoga mats, meditation pillows, comfy chairs, and books. Spend your me-time in a carefully constructed shed to take a break from your busy life.
6. The DIY-er
Love to tackle home projects yourself? If so, build a backyard shed to act as your workplace. Instead of dirtying up your home with sawdust, paint, and debris, designate these projects to the shed. Keep all of your tools in the shed as well for an organized and work-friendly area.
7. The Workaholic
Never off the clock? If this is the case, use your shed as an office space. Escape from the noise of your home with a relaxing, isolated, and well-organized shed space.
Are you one of these seven people? If you are, All Amish Structures can help you build the perfect shed for your needs. Reach out to us at 610-628-4343 if you are located in Lehigh Valley, Pennsylvania, or 908-454-4969 if you are in the Phillipsburg, New Jersey, area.
Amish Sheds New Jersey | Lehigh Valley Custom Shed